Fay Halkitis - plant-based beauty advocate | #WomenIKnow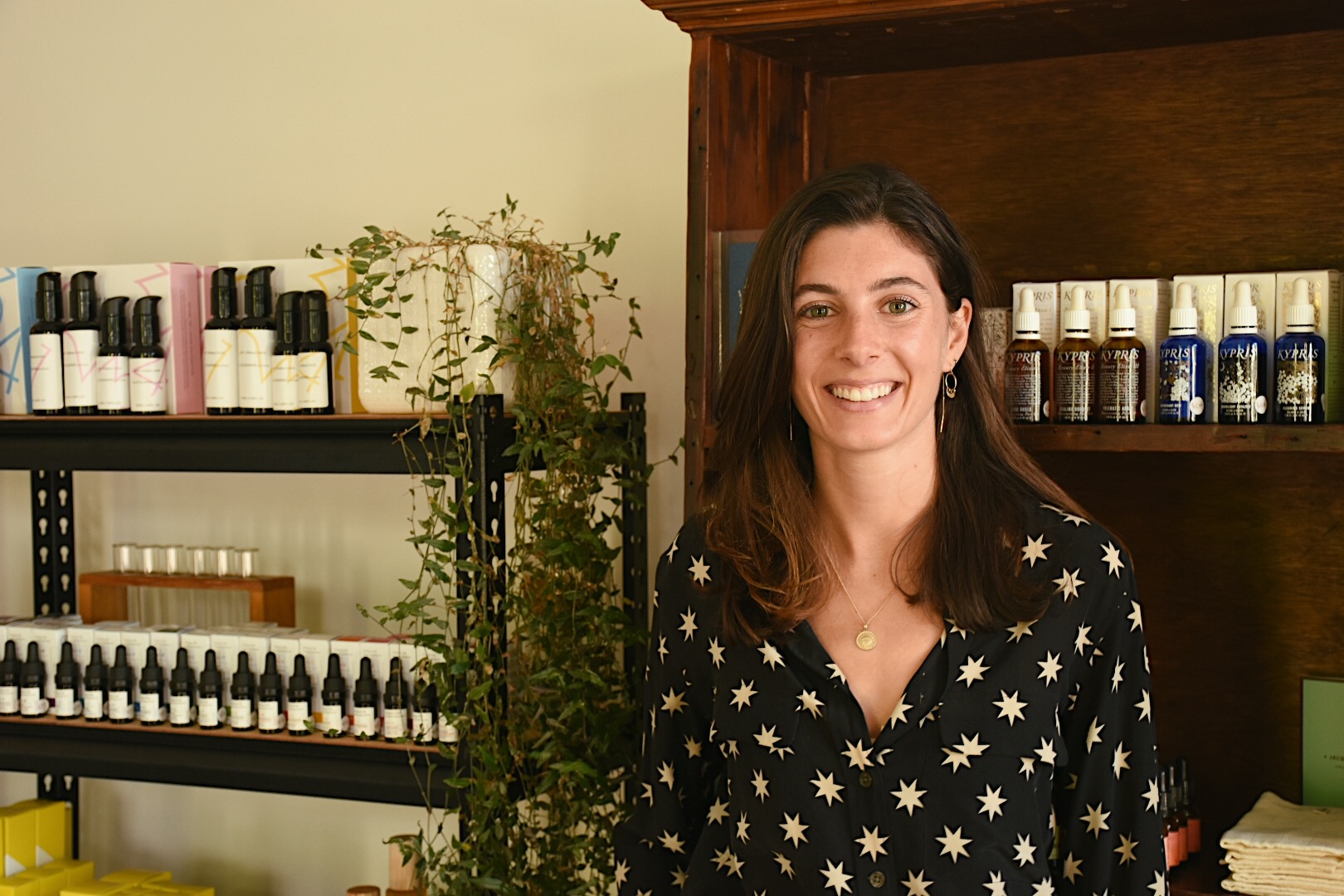 A qualified naturopath, holistic beauty therapist and founder of Luna Beauty & Apothecary in Sydney's leafy Surry Hills, Fay Halkitis promotes the use of herbal medicine, plant-derived skincare and cruelty-free products, and is making waves in the beauty world. When throwing open her doors in July 2016, Fay became the first Australian stockist for many cult green beauty brands including EiR NYC, Nucifera Body and my personal favourite, Twelve Skincare. I chatted to her about her inspiration behind Luna, daily rituals, the benefits of wildcrafted products and her desire for change in the wellness industry.
LH: Can you tell me a little bit about your business, Luna Beauty & Apothecary, and the principles that inspire it?
FH: Luna Beauty & Apothecary was created to provide a carefully curated selection of self-care products. Our mission is to inspire our clients to want to care for their body, give it healthy organic foods and use products that nourish it through to the soul.
I'm a big believer in the merits of education and helping clients to make informed decisions about what they put in and on their body - by combining beauty therapy and naturopathy, I'm passionate about a 'whole person' approach to skin health, and to think of food and skincare as lifestyle adjustments, not short-term fixes. 'Food as medicine' is a big part of my philosophy, too.
LH: Where did your interest in naturopathy begin?
FH: I first saw a naturopath in my final year of high school, who prescribed herbs for anxiety and insomnia during my exams. It was the first time I'd taken herbal medicine, and I was so impressed at the results. Whilst I'd always had an interest in all things herbal and the elements of mind, body and spirit, I forgot about it for a while and went to study beauty therapy straight out of high school. It was towards the end of those studies that I started to think again about studying naturopathy and thinking of it as a career, but I knew I wanted to combine it with beauty therapy and I knew I definitely wanted my own business. I decided to enrol in naturopathy, and a few months later I got a job with Aesop as a facial therapist, which complimented my studies perfectly.
LH: How did your job with Aesop change your attitude towards plant-based products?
FH: Aesop were a really great company to work for. They don't use parabens or synthetic fragrance in any of their products. They do use some man-made ingredients, though, but are very transparent about it and have never tried to 'greenwash' their brand. When I worked for them we were always encouraged to be open and honest with customers.
Back in 2011 there was an appetite for 'green' skincare, but I think there was definitely a lack of organic options.
LH: Do you think it's something that's picking up now?
FH: I'm finding that more people are interested in organic products, but they don't want your generic pharmacy option - they want something on the same level as your conventional products in terms of packaging, branding, look and feel, but with better ingredients.
There's still definitely a little bit of a stigma attached to 'green' beauty, that it's not as effective or as active as mainstream beauty products. One of the founding principles of Luna is education - when I'm talking to people about beauty and skincare, I go back to the fact that it really is about science.
If you look at a lot of mainstream products and their ingredients list, they're all derived from plants, but then adulterated in some way to improve shelf life, make it smell good or to feel silky. There's no long-term benefit for our skin.
Everyone should be looking for a product really high in antioxidants, which is what organic or wildcrafted herbs have in abundance.
LH: How do you inspire others to make the switch, without sounding too preachy or alienating?
FH: I was probably a bit preachy when I first started studying because I was so excited about all these new facts I was discovering! I've since found that the best way is to lead by example. Do things your own way, and eventually those around you, if they're interested in making a change, will become curious.
LH: Did you have a vision for what you wanted Luna to look like?
FH: Yes! I had hoards of photos and inspiration that I'd been collecting and I was pretty actively planning the store and my vision whilst I was living in London. I've always had a fascination with astrology, and always loved all ancient things - maps, globes, herbalism, even a little bit of witchcraft. I've always collected old books, especially ones about plants and herbs.
The name Luna came naturally, and I especially knew I wanted the old latin spelling. Thankfully, my graphic designer linked the Luna aspect to the Japanese constellation, Ophiuchus, which represents the serpent bearer and later became the symbol for medicine. I knew I wanted to combine the beauty and the apothecary elements, and as most medicines were born from plants, it all came together beautifully.
The phrase 'the sun sees your body, the moon sees your soul' is an important part of our philosophy, too.
I'm a big believer that the sun is very healing, but that we also need the night element, as this is when the body does the most healing and rejuvenating, so that's where the moon aspect comes from, too.
I loved living in London, but I really missed sitting in the sun and being able to feel some warmth from it. Coming back to Sydney made for perfect timing in that regard.
LH: What does a typical day look like for you?
FH: My working days vary because every experience with every client is different, and I wear a lot of different hats! My day starts at 6am when I'm woken by my dog Maya. I have a glass of water, do my tongue scraping (an ancient Ayurvedic technique which clears toxins and bacteria from the tongue) and then head off to the park with Maya for around 45 mins. I love that walk first thing in the morning - it's such a nice way to start the day. Then I have coffee and make breakfast, which is always eggs. Then I get ready for work, and I try to never rush - I always allow myself at least half an hour in the shop before the first client arrives. I like to be fully calm, set up and ready to go, so I get the shop and the treatment space ready for the day, and if I have some spare time I'll answer some emails. I'm very particular about responding to emails promptly, I don't like to leave people waiting.
I can see around 4 to 5 clients a day, spending 90 minutes with each, and in between I'm accepting deliveries, unpacking them, checking inventory, placing orders and creating treatment plans. I keep a lot of notebooks for ideas as they come to me, or in case I see something online that would work perfectly for Luna. That said, I don't make a decision too quickly - I like to revisit a brand a few times over the course of a few weeks and see if I'm still excited by it before making a decision.
Sunday is my family time - it's the one day of the week that I get with my husband. We still get up early, do the Bondi to Bronte coastal walk, and then we'll go for breakfast before planning our meals for the week and doing our grocery shopping. Usually I like to be at home on a Sunday evening and put something on the stove or in the slow cooker and put a movie on.
Monday is my day - I have a very specific ritual! I go to Clovelly Beach in the morning and jump straight into the water for a swim. Then I get a cappuccino and sit with a book and read for about an hour or two. I try not to look at my phone during this time which is hard, because I always answer it when it rings. That said, my work isn't a burden so it doesn't bother me too much. The rest of the day is life admin and I find it really important not to put those things off in order not to feel overwhelmed. That's something I really emphasise to clients.
LH: Where would you like to take Luna? You've been open for two years in July and you've been flourishing ever since.
FH: I'm so pleased and proud of the response to Luna - from day one we've had people come in that were local and curious and have supported the business ever since. It's grown in so many ways since, both in terms of the brands I stock and my regular clientele. Our brand identity keeps getting stronger, too - word of mouth is a really big part of my business. Even people who haven't been here yet recommend it! We've been financially self-sufficient from the beginning, which is a massive relief as many small businesses in Australia don't make it past their first year of trading.
I'm constantly brainstorming about ways to expand the business. I'd love to introduce another therapist and be able to offer additional services. I'd also love to have the retail space open more hours during the week. Because Luna is currently just me, it can be tricky finding the right member of staff, mainly because there isn't an abundance of people who have worked in the organic beauty industry and so I have to invest a fair amount of time training them and ensuring the Luna values are carried through. Plus, you build a rapport and a knowledge of your clients, which isn't always easy to pass on.
LH: What would you like to see change in the beauty industry?
FH: I think we have to be careful with the language we use and the psychology behind it, and attaching 'good' and 'bad' to different choices - not just in beauty, but in nutrition, too.
Instead, I believe we should be taking more of an educational approach and helping people to understand that there are some quite serious consequences through the use of some synthetic ingredients - we're seeing the consequences of this in the rise of certain diseases. But, I think if you present the facts and a really beautiful alternative - which I one day hope won't be the alternative, it will be the norm - people will start to make better choices anyway, because they'll see it helps keep them healthier.
We have this strange habit in society of changing something, dealing with the consequences, and then going back - we always seem to have to hurt ourselves before we learn.
I really feel like [using plant-based products] is a much more modern choice, just for the simple fact that they are using real ingredients - why would we use anything else?
Fay Halkitis BHSc Nat, ADipBT (CIDESCO) (ITEC) is a qualified Naturopath (Herbalist, Nutritionist) and Beauty Therapist who combines a unique range of qualifications to practise her area of special interest, Naturopathic skin health. You can find her online via her website or on Instagram at @luna_beauty_apothecary.