Harriet Spark - conservation through creative communication | #WomenIKnow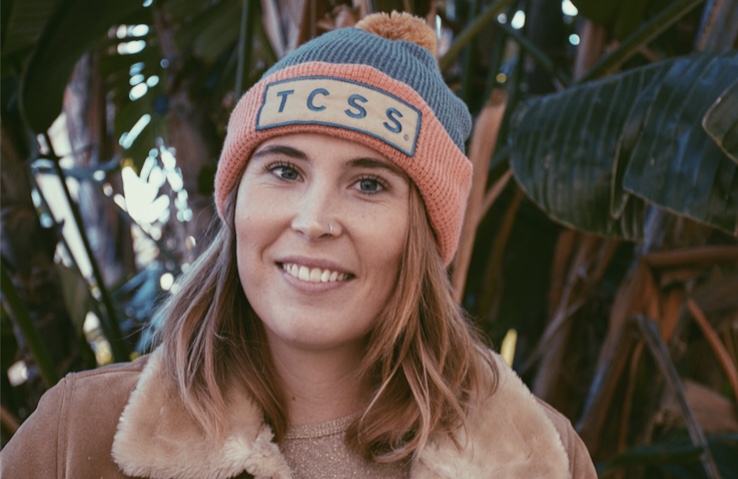 Harriet Spark is a graphic designer and communications specialist. Alongside heading up Grumpy Turtle Design, her design and content agency, she runs Operation Straw, a volunteer-led citizen science project involving monthly 'strawkles' at Manly Cove on Sydney's north shore to collect plastic straws which have made their way into the ocean and present a threat to marine life. What started as a simple stewardship project has evolved into a large-scale campaign working with local businesses to reduce their single-use plastic consumption. The project has garnered international media attention including Sunrise, ABC News and Studio 10. Alongside this, Harriet contributes to the cause with her captivating social media presence, helping to change the conversation around conservation, caring for the environment and living more consciously. I caught up with Harriet to find out more about Operation Straw, her use of social media for social good and her tactics for balancing volunteering, work and play.

LH: How did you get to where you are now, running both Grumpy Turtle Design and Operation Straw?
HS: Around three years ago I worked at a local aquarium as a dive instructor and spent a lot of time underwater with turtles - it wasn't long before I discovered that turtles have this permanent frown, as if they're grumpy all the time. I bonded with a particular turtle called Myrtle who loved cuddles (turtles love having their shells stroked in the same way us humans love having our hair played with) yet always looked so grumpy, so we called her The Grumpy Turtle. At the same time I was learning more about plastic and the issues that were impacting our oceans and wanted to do something about it. I started running beach cleans and community events and would put together some Photoshop posters using the skills I'd learnt studying graphic design with journalism. It proved to me how important good communication and good design is, so I ended up going back to complete my design degree, and then Grumpy Turtle Design was born.
I've also worked with organisations like 1 Million Women and Taronga Zoo on their social media and campaigns, so I've always loved combining design and cause-led marketing. That's how Operation Straw formed, really - I saw a problem and thought, how can I use my skills to solve that?

LH: Peta Kelly writes in her book 'Earth is Hiring' that the millennial generation, despite being oft-criticised by the media, are also the generation doing the most to make the world a better place and posses a 'divine intolerance' for environmental abuse. And yet, despite this, there's been some negative attitudes towards the work you're doing to ban plastic straws.
HS: Plastic straws are far from the biggest issue our oceans face - ghost nets (commercial fishing gear) are far more harmful in the havoc they wreak on marine life, but I choose to focus on straws because we can empower the everyday individual to say no to the straw - it's hard for them to feel connected to the ghost net issue because it's not something they would see or come into contact with. I've read a lot of negative talk about how banning straws isn't going to solve plastic pollution, but the way I see it is that it's a way of getting the conversation going. Not eating dairy and meat is one of the biggest things we can do for the planet, but you have to decide if you're ready to take that step and what works for you. I try to remind people that even if we cut down eating red meat for one day a week then it will have a huge impact on the future of our planet.
LH: You're one of the few people I've seen who have really harnessed social media as a tool for social good - was that a deliberate part of your strategy?
HS: Absolutely - Operation Straw was a natural fit for social media because its a volunteer-led citizen science project with no budget. Social media gives me the most bang for my buck, it's free, easy to use, quick and current. I do feel it's important though to not just be broadcasting but to use it mindfully with a goal in mind - a call to action or a rallying cry.

I'm a big believer in the importance of good copy, good design and a strong message, and always ask myself - why am i posting this? Is it for a reason? I try to be really mindful, post and then be in the moment in my real life.

LH: In that regard, how do you deal with overwhelm? Do you use any strategies to ensure you're not becoming too entrenched in the online world?
HS: I feel like I'm going to give away my secrets here, but I use scheduling apps. I find the times when I'm not constantly on social media a lot calmer and means I'm more present and, as a result, more creative. I worry that we don't have time anymore for the big ideas, the reflection and thinking - I've often found my best ideas have been formed when I'm having a shower or going for a walk. Every moment when we could be having five minutes of deep or reflective thought we're scrolling Instagram looking at bikini babes and it's not good for us.
I've been listening a lot lately to the Hurry Slowly podcast, which is an awesome resource, and since then I've put some boundaries in place for myself which means I'm not having any digital contact after a set time in the evenings. I really compare myself to other people and get FOMO so easily and that's really exacerbated by social media, so now I just focus on what I can control and what I can put 100% into and try not to worry about anything else.
I think planning and setting yourself up for the week ahead is a good tactic for a clear mind, too - on a Sunday, I might go to the farmers market early and get our veggies for the week, and even though its a weekend day, I might do some work so make sure I'm ahead on my to do list. That means if I have a bit of spare time during the week and it's a nice day, I can go for a snorkel and not feel bad about it.

LH: Which people, past or present, inspire you to keep doing the work you do?
HS: It might be a cliche but who hasn't been inspired by David Attenborough's documentaries? I grew up watching them and he's done so much to make the conversation around protecting our planet mainstream. I love his no-nonsense attitude and he just has this pure love for the environment and the world he lives in. I'm so lucky to have lots of women in my life who I'm really inspired by - in particular, a fellow designer called Cath Leach who runs Catfish Creative. Laura Wells is a model and marine biologist and does amazing stuff. All of these ladies inspire me because there's no bullshit - they're just 100% themselves and they're trying to do good stuff in the world. There's no ego, and they're the kind of women who inspire me - I'm lucky to have so many of them around me.

LH: You've cultivated an online brand for yourself that has seen you work with a range of conscious clients - how important is that to you?
HS: It's definitely a deliberate move - I want to work with anyone who is trying to make the world a little better. A lot of designers will do corporate work on one side and their passion project on the other, but for me personally I couldn't imagine going to work for someone that I didn't believe in or was exacerbating the problem I'm trying to fix just because they pay me the big bucks, even though sometimes that doesn't make sense financially.

LH: Which of your achievements are you most proud of?
HS: I'd say Operation Straw just because we did that with no budget at all; I've also had to really get out of my comfort zone doing live TV crosses and interviews, so it's been challenging at times. But also the community that's come out of it - I've met so many amazing people. One girl in particular told me that she suffers from anxiety but when she strawkles she's totally relaxed and at ease. I knew when we started Operation Straw that we'd collect a fair few straws and come out with a lot of data, but I never imagined that people would get so into it and it would affect them on such a personal level - that's been awesome.

LH: What's next for both Grumpy Turtle and Operation Straw?
HS: We've been developing the business engagement side of Operation Straw for the past few months, helping Manly-based businesses to transition to banning single-use straws in bars and restaurants, which has been great. With the help of my friend Alicia Lloyd we're launching Plastic Free Bondi with Waverley Council, which is exciting to bring the initiative to the south side of the Bridge!
That said, my ultimate vision is to give people the tools to run strawkles themselves, wherever they are. I'm developing a handbook and my hope is that dive shops, or other coastal-based businesses, would be keen to run strawkle events.
Although Operation Straw started here [in Sydney] I'm really passionate about taking people to see the ocean and seeing how much love they get from that. It's not always about collecting data - there are already so many organisations doing that - but more about getting the community engaged with the cause. That's a really powerful outcome.
Harriet Spark is a graphic designer and marketer and specialises in environmentalism and causes with a conscious. VISIT HER website Grumpy Turtle Design or follow her on Instagram, @grumpyturtledesign. WANT TO GET STARTED WITH LIVING A MORE CONSCIOUS AND plastic-free LIFE? DOWNLOAD HARRIET'S EBOOK, Part of the solution, today.