How to spend 72 hours in Byron Bay | Travel
I've resisted writing about Byron for so long because I just wasn't sure I could do the place justice. There is so much that you feel when you go to Byron that I'm not sure I can get it down on (metaphorical) paper. Besides from the breathtaking natural beauty of the Northern Rivers coast, there's a spirituality about the place… an infectious sense of calm, which oozes from the pores of every sun-kissed, warm and welcoming local lucky enough to call Byron home.
Byron is a mecca for creatives and entrepreneurs - the immense number of Australian-born brands that are headquartered here is indicative of that, many of whom have flocked north from Sydney in search of a sea change. You'll find Spell, Mayde Tea, St Agni, Yoli & Otis, McTavish Surfboards, Auguste The Label, The Beach People, Afends… there's also a wealth of foodie start-ups, branding agencies, health coaches, wellness advisors and spiritual living advocates. It's easy to see why creative free spirits would chose to settle up here, where the natural beauty is abundant, the pace a little slower and a supportive, like-minded community abounds.
For those in retail, Habitat, on the Byron Industrial Estate, is the indie entrepreneur's Westfield, bringing all of the makers and shakers, movers and groovers of this vibrant Byron Shire town into one neat little pocket.
And of course Byron is a foodies paradise - in fact, the first time we went to Byron in winter it rained biblically, and so we were 'forced' to spend most of our time exploring the many cafes on offer (and simultaneously battering our wallets). It does mean though that we've narrowed down a pretty mean shortlist of how to spend 72 hours in Byron, taking into account the best dining spots and exploring all that this amazing area has to offer.
For coffee aficionados, Bayleaf should be your first stop for a cup of Joe - as with many Byron establishments, the guys at Bayleaf keep it local by brewing Marvel St coffee, accompanied by a mouthwatering menu of wholesome and organic fare. Get here early as this place is a hit with locals and tourists alike.
You'll need a car (or a bike!) to get to Folk as it sits just outside of town, but it's worth the trip - set in a wooden hut adjacent to a holiday park, it simultaneously has a local and other-wordly feel, where huge acai bowls mingle on the menu next to banana and turmeric lattes. Folk is set in lush gardens, with the cafe itself offering upturned milk crates for those sipping their morning coffee, or Moroccan-style cushions for those chilling out a little longer. Add in some swinging tunes, it's sure to get your day off to a good start.
Continue up the Ewingsdale Road to The Farm, the brainchild of Emma and Tom Lane whose vision was to create a community of like-minded individuals united by the desire to grow and harvest their own food and produce. The result is a beautiful property teeming with a real village feel and offering workshops, farming opportunities and plenty of locally prepared dishes and, of course, coffee.
There's an outpost of Sydney favourite Three Blue Ducks, as well as a flower shop and bakery. We arrived on a bustling day during the holidays where a BBQ was in full swing - the jackfruit pulled pork burgers went down a treat. You're also free to peruse the property and meet the resident highland cows, chooks, goats and pigs.
Surf at The Pass, followed by burgers at Top Shop
Some days you don't want to do much other than get your saltwater fix and wash it down with the best burger in the business. Enter Top Shop, Byron's pink-hued burger joint set in the 'burbs, and conveniently just a short stroll from The Pass, where you'll find rollers for all abilities.
And if you don't want to get wet? People watching at The Pass is a pretty fine way to while an afternoon, too.
Catch an early morning ride with Zephyr Horses
A ritual of our travels over the last few years has involved seeking out the best places to get in the saddle, and Zephyr Horses have been on my wishlist for a while. The Forest to Beach Ride at sunrise might involve a brutal wake-up call, but soon rewards you with the most astonishing vista across Belongil Beach - viewed through the ears of your steed, of course.
The horses are responsive, in good health and don't fizz up, and the guides are attentive and welcoming (even at the slightly unsociable hour of 5.40am!). An absolute must-do if you're a horse lover.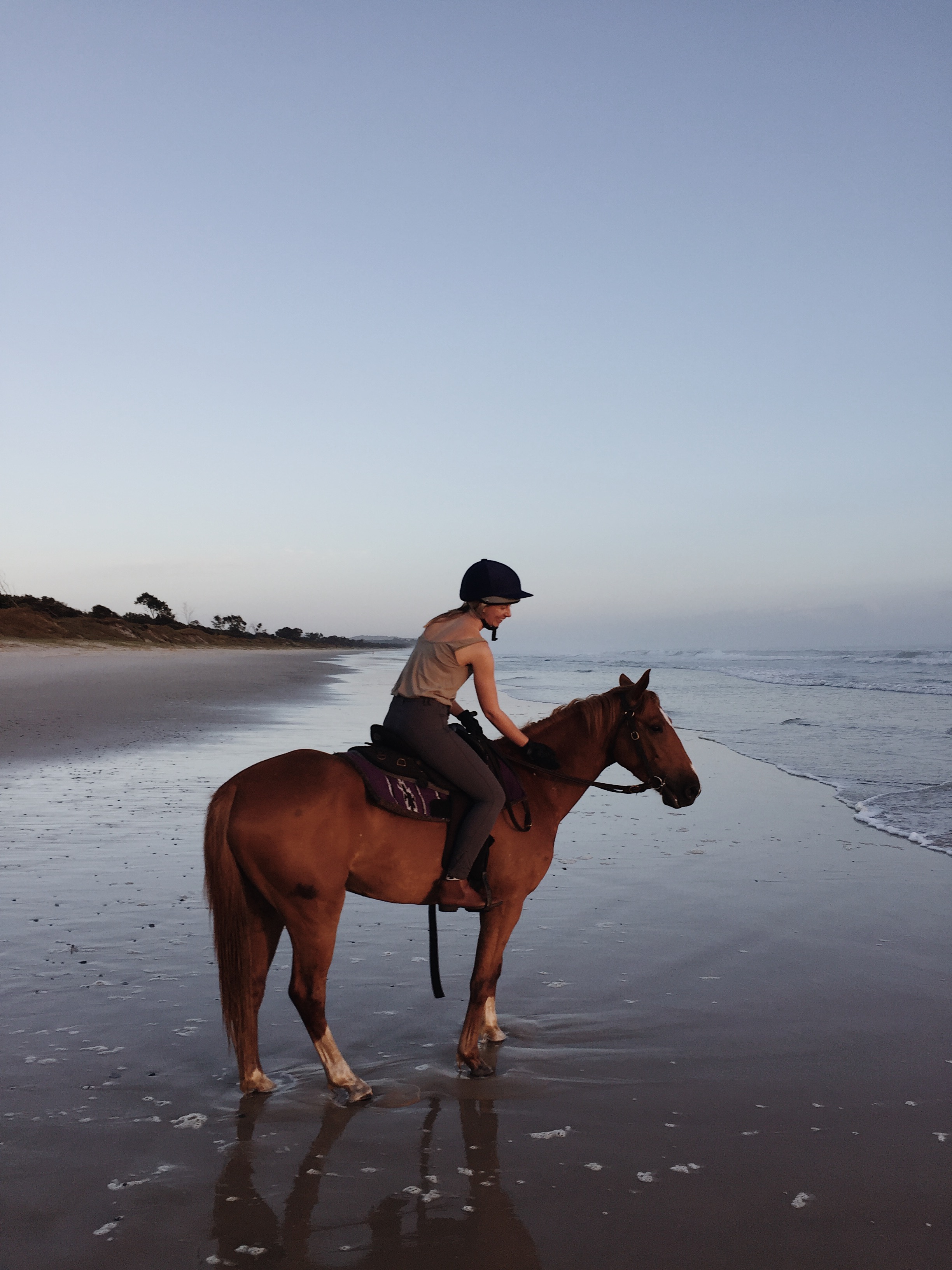 I've run out of superlatives to describe The Atlantic, so let's just go with it's the best damn place to stay if you're heading to Byron. Smack bang in the middle of town - and just a stone's throw from Bayleaf Cafe - you're perfectly located to access the beach and the main hubbub of Byron. You'd be forgiven for thinking that such a central location you'd expect some level of noise or intrusion, but The Atlantic has serenity in spades, and with a firepit lit every night (with cosy chairs and blankets dotted around) and communal kitchens aplenty, it's a private community all in itself.
We stayed in the Albatross Inn, a space inspired by Arizona and Mexico complete with outdoor shower and decking area. The communal kitchen area is shared by the three other apartments in the Albatross block, meaning you stash your vino and supplies in the fridge and are free to make use of the food preparation area and comfy seating. It's a really relaxed and unique way of mixing private-communal living, and means you also meet a variety of different people.
The Atlantic also offers free hire of their McTavish surfboards, yoga mats, sun umbrellas and bikes, so there's everything you need to live like a local during your stay.
Visit the Hinterland - Newrybar, Bangalow, Clunes, Federal
Whilst there's an abundance of beauty and quirkiness in the town itself, jumping in the car and exploring the Hinterland brings a whole new dimension to this special spot of the Northern Rivers.
Head to Newrybar to sample the delights of Harvest - this airy, weatherboard cottage is the first of Byron's 'field to fork' offerings, surrounded by edible gardens that also supply the adjacent bakery and deli.
Directly opposite you'll find Newrybar Merchants, an emporium housing some of the area's best artisans, and where you'll find beautiful plants, books, linen and jewellery.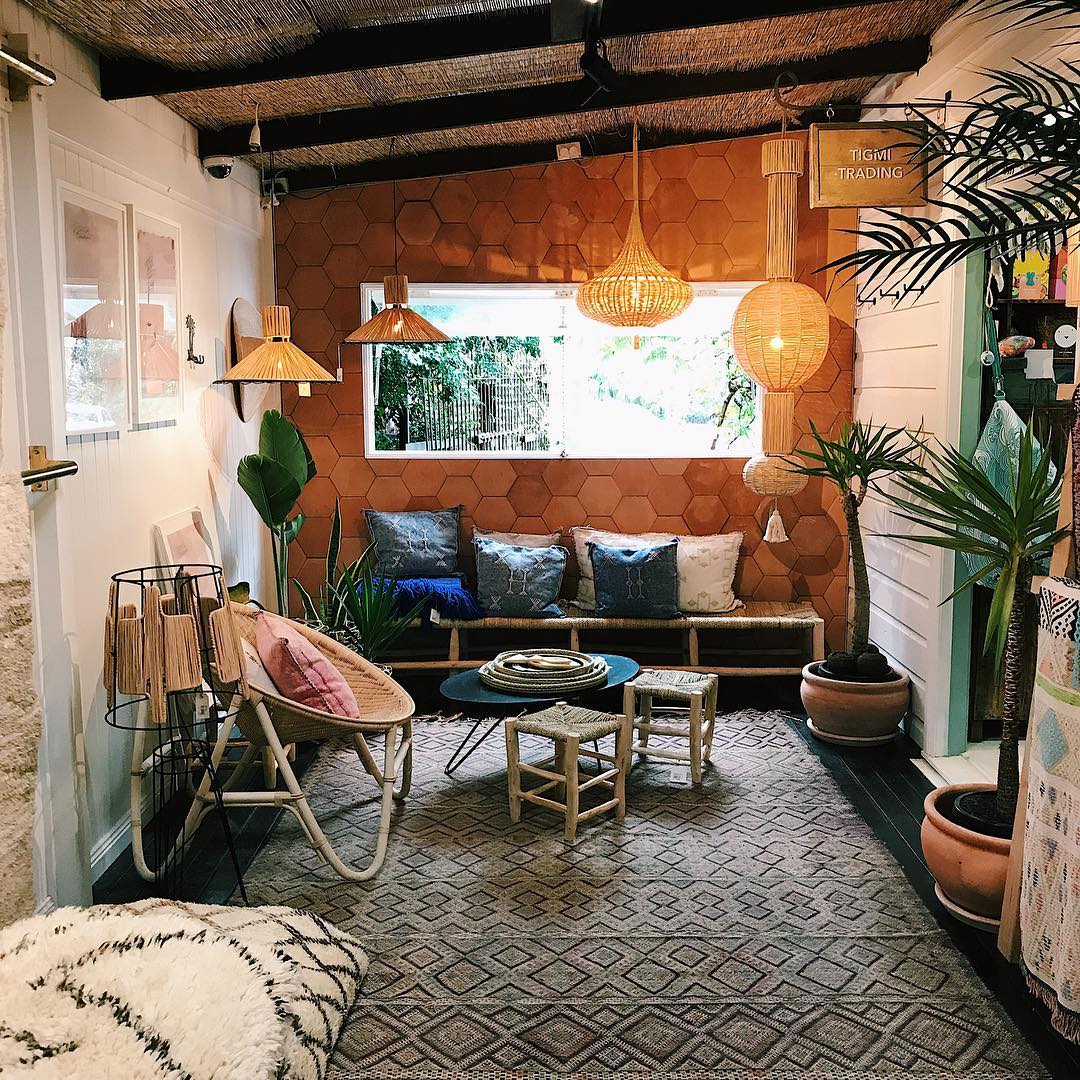 Bangalow has more of a high street feel, but is still dotted with fragrant health food stores and apothecaries; there's a beautiful flower store, and plenty of places to hunt for homewares and linen.
A bit further into the Hinterland, in the foothills and volcanic soils of Mount Warning you'll find the village of Clunes, home to Jilly Wine Co, a small batch winemaker and who supply many of the wines in the region. The main street in Clunes is dotted with flower boxes and clapboard cottages, with signs advertising haircuts and dog grooming services.
Onwards to the winding roads that take you into World Heritage rainforests and National Parks, you'd be forgiven if you drove straight past the turning for sleepy Federal, such is its 'blink and you'll miss it' demeanour. Whilst being less refined than its Hinterland cousins, what it lacks in sophistication it makes up for in authenticity, with the absolute standout Doma selling the best sushi we've ever tasted. The Emporium is an eclectic cave of gifts and treasures, and the General Store stocks everything you need to taste the local produce. Like the rest of Byron Shire, Federal is playing host to a population of sea-change city slickers who are bringing their own culture, as evidenced by a Reel Films night showing 16mm movies on the second Saturday of each month.
Byron offers that chaste combination of coast and hinterland; of turquoise blue waters capped by frothy surf, contrasted against rolling green countryside. It's long been a mecca for those disillusioned with consumer culture and wanting a slower pace of life, with access to homegrown veggies, weak wifi signal and all the trappings of village life. To visit Byron is to invest into a community, a circular economy where the people that will benefit are those serving your morning coffee or breakfast bowl. To visit Byron is to slow down completely. To visit Byron is to switch off, reconnect and recalibrate - and there's absolutely no doubt it will leave an indelible mark.